Take Route 1 North (Saugus)
You will see Polcaris, then U-Haul, then Donatellos
When you reach Polcaris, move into the breakdown lane and start to slow down
Take the driveway immediately after Oye's Rest.& Bar
BBSA is at 38 Broadway – Route 1 North
Boston Bartenders School campus location at 38 Broadway in Saugus Ma is no longer under the Division of Professional Licensure of Massachusetts (DPL) and is exempted from the private occupational school Licensure under M.G.L. Chapter 112 & 263. The school is under new ownership.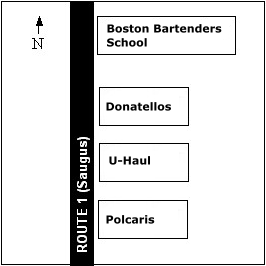 Choose A Location Above To View A Calendar
With Class Dates & Times!
Classes start each week!
Day classes: 9:00 – 5:00 Monday through Thursday – for 1 week.
Evening classes: 6:00 – 10:00 Monday through Thursday – for 2 weeks.
Saturday classes: 9:00 – 4:30 for 4 weeks.
Day, Evening, Saturday & flex
Hands-on Training.
Real Pub Atmosphere.
Students must be 18 years of age or older (MA and NH requirement)
Still Thinking? - Compare Schools!